According to information from the National Institute of Nutrition, many studies show that MCT brings many benefits to the health of users:
FOR ADULTS
MCT
provides the body with energy more quickly and efficiently than other fats. It easily enter cells without being broken down, so they can be used as an immediate source of energy.
This nutrition also has value in the diet. When you are on a ketogenic diet, MCT can be converted to ketones in the liver. These ketones are able to cross the blood-brain barrier and transform into an energy source for brain cells.
In addition, thanks to easy and fast digestion, absorption, and transportation, MCT also has a supporting effect, helping the digestive system to absorb food more efficiently.
FOR CHILDREN
Thanks to its quick absorption properties, MCT provides energy for children more quickly and efficiently than other fats.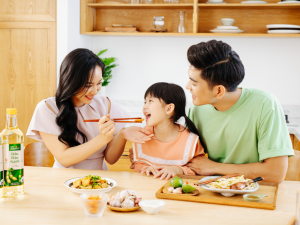 Moreover, it has a good support effect for the immature digestive system of children. Therefore, MCT is suitable for children with anorexia, children with reduced fat absorption, slow digestion, children with duodenal disease.
In addition, MCT oxidizes rapidly and tend to be less deposited as body fat, thereby limiting subcutaneous fat accumulation, reducing the risk of obesity and cardiovascular diseases in both patients adults and small children.
Currently, Tiara plus+ MCT is the FIRST and ONLY soybean oil product in Vietnam to be supplemented with this precious nutrient.
Source: http://ninfood.com.vn/
North Continental Oils & Fats Vietnam Company Limited (Nortalic) is a company 100% owned by Musim Mas Group – headquartered in Singapore.

 

Nortalic's factory is located in Nghi Son Economic Zone, Hai Ha Commune, Nghi Son Town, Thanh Hoa Province with a total investment capital of 71.5 million USD, designed capacity of 1,500 tons/day. The factory officially went into operation from June 2018.

 

Nortalic's consumer product lines include:

 

 

 

 

 

Besides, other products from Nortalic's palm oil and specialized fats are trusted and widely used in the food processing industry such as: instant noodles, confectionery, fast food processing, food processing, etc. processing milk and dairy products, canned food, pharmaceuticals… Products are certified for Sustainable Palm Oil (RSPO/ Mass Balance).

 

See detailed information at:  https://www.youtube.com/watch?v=mdTu1PMTqLg[AA1]