In the past 3 years, many nutritionists as well as health-conscious consumers have known MCT nutrients as a "golden" solution. So what is MCT?
MCT is a valuable nutrient found in breast milk, coconut oil and palm kernel oil; Absorbed by the body is completely different from the fatty acids of conventional cooking oils. According to research, MCT nutrients bring outstanding benefits such as contributing to improving blood fat health (reducing total cholesterol and reducing bad cholesterol in the blood), supporting weight loss, improving BMI of patients. body.
Perfect duo!
Whether you're part of a "team" of training to pursue a healthy lifestyle, or a "team" that is picky about each nutritional ingredient – it's certainly no stranger to cooking oils containing Omega 3-6-9.
But there is a cooking oil that not only contains Omega 3-6-9, but also contains precious nutrients MCT that is not only good, but also twice as good as regular soybean oil.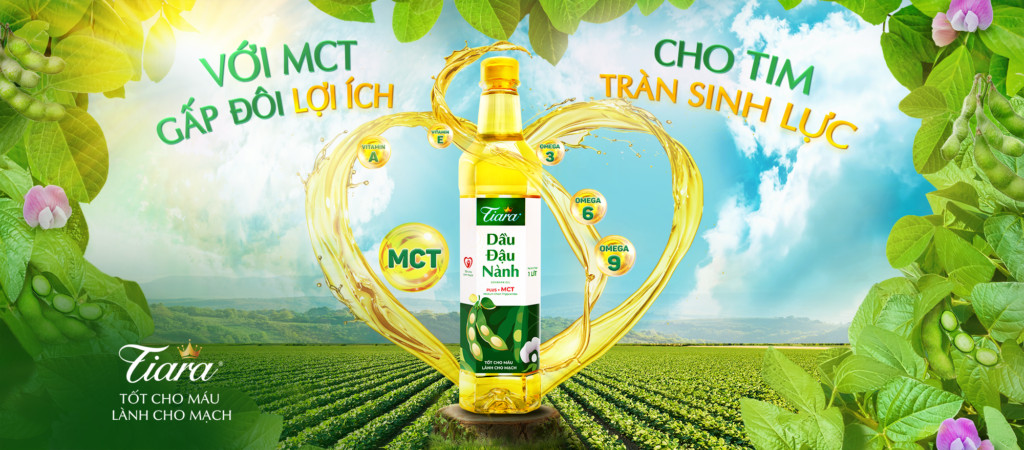 Totally beautiful!
MCT nutrients not only help the body avoid the risks of atherosclerosis, but also have the properties of fast conversion into energy, providing clean and easily absorbed energy for the brain, helping to improve memory for children. developing children and strengthening the minds of the elderly.
Therefore, Tiara Soybean Oil brings a lot of benefits to the health of all family members of all ages.
Born from the hearts of leading experts
Tiara plus+ MCT Soybean Oil is researched and developed by the R&D department of Musim Mas Group – headquartered in Singapore.
Officially launched in July 2018, Tiara plus+ MCT Soybean Oil is produced on modern technology lines at NORTH CONTINENTAL OILS & FATS VIETNAM COMPANY LIMITED (Nortalic) with a total investment of 71.5 million USD, and designed capacity 1,500 tons/day.
Encapsulating the enthusiasm and hearts of leading experts in the domestic and international cooking oil industry – Tiara plus+ MCT Soybean Oil is a breakthrough success in nutritional research, bringing outstanding benefits to general health and the heart circuit in particular.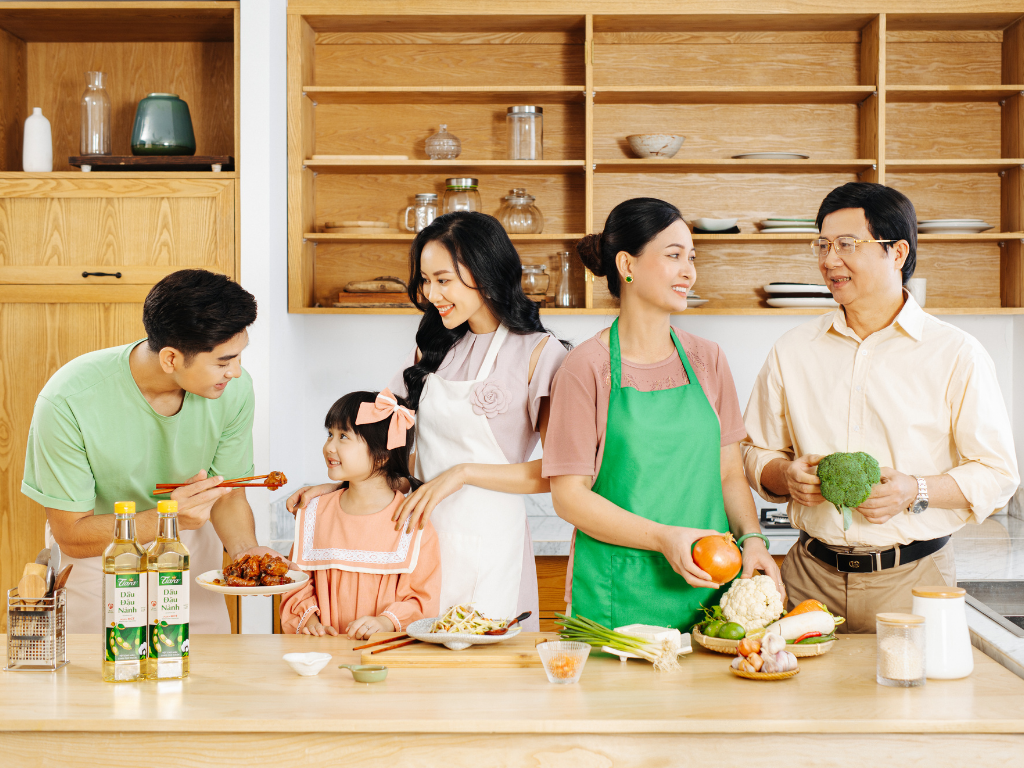 "Heart" for the whole family
Choosing which nutritional products to take care of the whole family's health, or how to make home meals both delicious and nutritious are always the issues that concern us the most.
Sharing about her family's satisfaction with soybean oil, Ms. Thu (living in Cau Giay District, Hanoi) excitedly: "Any soybean oil is good for the heart, but 'double benefits'. It's true that only Tiara. Before, I didn't know any soybean oil brands in Vietnam that were fortified with MCT. Try it and then you will know, eating dishes made with soybean oil with MCT added to it, people gently drilled. I thought it was just me, but everyone in my family loves it!".
What comes from the heart, will come to the heart. Have you and your family listened to and loved your heart today?
NORTH CONTINENTAL OILS & FATS VIETNAM COMPANY LIMITED (Nortalic) is a company 100% owned by Musim Mas Group – headquartered in Singapore.

Nortalic's factory is located in Nghi Son Economic Zone, Hai Ha Commune, Nghi Son Town, Thanh Hoa Province with a total investment capital of 71.5 million USD, designed capacity of 1,500 tons/day. The factory officially went into operation from June 2018.

Nortalic's consumer product lines include:

– Tiara plus+ MCT soybean oil

– Livvy soybean oil

– Freda's Refined Vegetable Oil

– Nortalic Refined Olein Oil

Besides, other products from Nortalic's palm oil and specialized fats are trusted and widely used in the food processing industry such as: instant noodles, confectionery, fast food processing, food processing, etc. processing milk and dairy products, canned food, pharmaceuticals… The product is certified for Sustainable Palm Oil (RSPO/ Mass Balance).

Readers can refer to detailed information about Tiara plus+ MCT soybean oil here.
Link: https://kenh14.vn/xu-huong-su-dung-mct-cho-nhung-bua-an-lanh-va-trai-tim-khoe-manh-20211228215141349.chn